EBM's 4th Harmonization Workshop: Atomic Force Microscopy and Frog Brains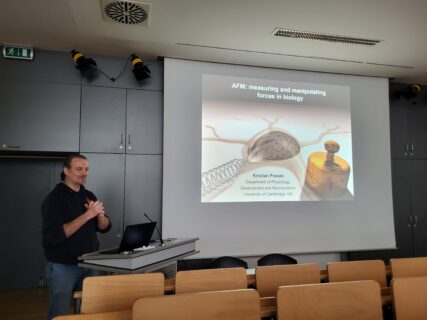 On November 9th, 2023, the Collaborative Research Center (CRC) 1540 "Exploring Brain Mechanics (EBM)", hosted an interactive workshop centered on Atomic Force Microscopy (AFM) and its application to the study of frog brain. This event was organized by the group of Prof. Dr. Kristian Franze, situated at the Center for Medical Physics and Technology (ZMPT) at Henkestrasse 91, 91052, Erlangen.
The workshop, designed for postdoctoral researchers and doctoral candidates within the EBM consortium, encompassed two sessions. The first session featured a presentation by Prof. Dr. Kristian Franze, introducing the theoretical foundations of AFM and its utility in measuring mechanical properties, particularly in the context of biological samples. The talk highlighted noteworthy AFM findings pertaining to the influence of tissue mechanics dynamics on developmental processes.
The subsequent session, organized by Sebastián Ignacio Vásquez Sepúlveda, M.Sc., comprised a hands-on workshop where participants identified Xenopus embryo samples at different developmental stages. Attendees also assessed the brain anatomy, supplemented by an observation of the neuronal developmental trajectory within the Xenopus brain through fluorescence microscopy.
The objective of the workshop was to underscore the significance of AFM as a tool for mechanical measurements and the critical role played by tissue mechanics in various biological processes.
Jana Bachir (C03)