Announcement: Kick-Off Meeting of the CRC 1540 Exploring Brain Mechanics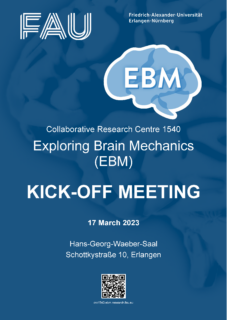 On March 17, 2023, the members of the new Collaborative Research Center 1540 "Exploring Brain Mechanics (EBM)" will meet at Fraunhofer IISB to launch their programme. PIs as well as doctoral researchers and postdocs from various faculties at FAU, the University Hospital Erlangen, the Max Planck Institute for the Science of Light Erlangen and Charité Universitätsmedizin Berlin will present their projects in short oral presentations as well as on posters and network to get to know each other, learn more about the CRC subprojects and plan the next years.
The programme can be downloaded here.
If you would like to attend the EBM Kick-Off Meeting, please register until 12 March 2023 here: